Lane Dixon, DVM
Veterinarian
Dr. Dixon graduated from Carrizozo High School in 2002 where he grew up on a cattle ranch. After high school he attended NMSU where he received his Bachelors degree in Animal Science. In 2010 he graduated from Colorado State University with his DVM and received the outstanding student in Equine Reproduction.
He has spent the last seven years in Ruidoso New Mexico at a mixed animal practice where he has gained invaluable experience in equine and bovine reproduction, colic surgery, equine arthroscopic surgery, small animal orthopedic and soft tissue surgery, and general medicine for all species.
Dr. Dixon left Ruidoso to start a family with his beautiful wife Karla and his kids Ethan, Oakley, Raelynn, and Kinlee. Dr. Dixon started East Mountain Veterinary Service in January of 2017.
When he is not treating critters he enjoys spending time with Karla, the kids and their animals. Dr. Dixon enjoys roping, snowboarding, and playing hockey.
Alicia Wilson, DVM
Associate Veterinarian
Dr. Alicia Wilson was born and raised in Fountain, Colorado, a small city between Colorado Springs and Pueblo just outside of the Fort Carson Army base. Following high school graduation, she moved to Mount Vernon, Iowa to attend Cornell College. In just over 2 years' time she graduated from Cornell with a Bachelor of Arts in Biochemistry and Molecular Biology. She applied to Veterinary schools across the nation where she was accepted to Cornell University, UC Davis, and Midwestern University.
She began pursuing a career in the veterinary field, as most stories go, as a young child falling in love with the idea of helping animals. Dr. Wilson began shadowing at various clinics and even found a job in the Cheyenne Mountain Zoo where she was able to help educate others about animals, their needs, and the means of taking care of them. She is all about the exotics and is a big proponent of conservation medicine and loves working with them every opportunity that she gets. She also loves working with horses and large animals in general. She is a member of the WDA and AAEP.
Dr. Wilson loves to go on hikes and when she had a horse in her life, enjoyed riding immensely. She currently has 2 dogs at home who are a result of working at the clinic, but she absolutely loves them. Dr. Wilson also enjoys artwork, mostly doing graphite personally, but will dabble into chalks, charcoals, and paints. She also does sewing and cross-stitch.
Amy Kazmar
Senior Lead Technician
Amy is a RVT and has been with us since March 2020. She was born and raised in New Mexico, mainly in the East mountain area. Amy has always wanted to be a veterinarian from a young age. When her schooling went a bit off track, she decided to be a veterinary technician. Her favorite thing about working with animals is that every animal is different, from their personality, species, medical concern, etc. Amy knew right away when she started in this profession that she knew she was in the right place. Being able to see the impact she makes on all of the animals' and owners' lives is just amazing.
Amy has been married to her husband since August 2011. They have a seven year old daughter and 5 year old son as well as six cats and two dogs. She enjoys doing activities outdoors and spending time with her family.
Josh Jordan
Lead Veterinary Technician
Josh as one of our veterinary technicians here at East Mountain Veterinary Services, and one of many wonderful people that will be caring for your pet!
In his free time, he likes to spent time with his wife Feather and son Colt. His family has three dogs, Lydia, Trixie and Jibii, a bearded dragon named Reptar, and a tortoise named Tuga.
Kandi Huxtable
Lead Veterinary Assistant
Kandi is part of our customer service team here at East Mountain Veterinary Services since March of 2019.
Kandi has earned 2 associate degrees (1 in liberal arts; 1 in science), 2 bachelor degrees (1 in fine arts; 1 in science), 3 masters degrees (1 in fine arts; 1 in science; 1 in business).
She loves working with animals and loves the unconditional love that they give. She knew that she chose the right career when her experience and skills in human medicine crossed over into veterinary medicine.
Outside of work, Kandi enjoys spending time with her husband on horseback and watching the beautiful sunsets! Kandi has a dream to run her own cattle company someday.
Caelina Garcia
Lead Veterinary Assistant
Caelina has been with us since 2016 and currently enjoys her position as a Veterinary Assistant. She is a New Mexico native, she moved with her parents and brothers 25 years ago. On top of taking care of animals, and attending university full time, she also has a 5-year-old son.
Her career path in veterinary medicine started 4 years ago when she was 19 years old. Her favorite thing in this career path is her ability to help provide top-notch care for animals, and being able to save a life whenever possible. It has been a lifelong dream of hers to become a Veterinarian, becoming a part of East Mountain Veterinary Service, who has not only shown her support and opportunities but has also encouraged her to pursue her dreams further to reality.
She currently lives in Edgewood, NM along with her family and five-year-old son, Matthias. She enjoys riding my horses, camping, fishing, and spending time with her family in her downtime. She is a full-time college student at UNM, a full-time Vet technician, single mom, and animal lover!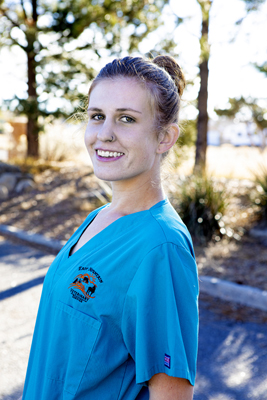 Molly Risacher
Lead Veterinary Assistant
Molly as one of our veterinary assistants here at East Mountain Veterinary Services, and one of many wonderful people that will be caring for your pet! Molly was born and raised in Edgewood New Mexico.
She has always had a passion for animals since day one. She finds them to be the most humbling creatures on this planet. She thinks the best thing you can do on this earth is to help the helpless. Her favorite thing about working with animals is that no matter what they are going through, they always greet you with a happy face and a kind heart.
Molly comes from a large family. She is one of 5 siblings. When she is not at work, she am usually hiking with her dogs in the mountains. Growing up in the east mountains was the best part of her life, the fresh air and the freedom to be what you want to be.
Amanda Anzures
Lead Veterinary Assistant
Bio coming soon!
Jeanna DeVecchio
Lead Veterinary Assistant
Bio coming soon!
Leah Tsiosdia
Veterinary Assistant
Briana Dooley
Veterinary Assistant and Client Relations Liason
Tawny Gordon
Veterinary Assistant
Brisa Garcia
Veterinary Assistant
Tiffany Hanna
Veterinary Assistant
Jenea Mccloskey
Veterinary Assistant
Jordan Pritchett
Veterinary Assistant
Jennifer Reynolds
Veterinary Assistant
Itzel Roach
Veterinary Assistant
Cori Boulware
Veterinary Assistant
Elizabeth Hartman
Veterinary Assistant
Jonna Lawrence
Veterinary Assistant
Kellee Schmitz
Veterinary Assistant
Rhiannon Cozart
Veterinary Assistant
Sheila Carroll
Veterinary Assistant
Tabatha Davis
Veterinary Assistant
Trinity Williams
Veterinary Assistant
Addie Gilmore
Veterinary Assistant
Thomas Arrowsmith
Veterinary Assistant
Aiden Howells
Kennel Technician
Karla Dixon
Practice Manager
Bio coming soon!
Dina Abernathy
Front Office Lead
Dina has been ensuring front office processes have been running smoothly since November 2019 as our front office lead. She is a native New Mexican. Born and raised in the Valley.
She found a niche in veterinary medicine where she has been happily working for close to 12 years. Throughout her life, she has always had some sort of animal, dog, cat, reptiles, birds from farm to Moluccan cockatoos. It became clear to her she was in the right place by the way animals reacted around her. And after a while, their owners started to grow on her as well.
Her personal interests include raising poultry and learning about herbal medicine. Her passion would be spending time with her grandchildren. Her inspiration would be her boss Karla Dixon, she's one amazing lady!
Brooke Erdman
Client Relations Specialist
Mariah West
Client Relations Specialist
Pia Hosick Reeve
Client Relations Specialist
Ashley Cordell
Client Relations Specialist
Aubrey Moreno
Client Relations Specialist
Sarah Beasey
Client Relations Specialist
Dawn Zeleny
Client Relations Specialist
Dee Cromwell
Client Relations Specialist
Kelly Crow
Client Relations Specialist
Richard Harris
Client Relations Specialist
Sandra Creegan
Client Relations Specialist
Brenda Hockett
Client Service Representative