Lane Dixon, DVM
Veterinarian, Owner
Dr. Dixon graduated from Carrizozo High School in 2002 where he grew up on a cattle ranch. After high school he attended NMSU where he received his Bachelors degree in Animal Science. In 2010 he graduated from Colorado State University with his DVM and received the outstanding student in Equine Reproduction.
He has spent the last seven years in Ruidoso New Mexico at a mixed animal practice where he has gained invaluable experience in equine and bovine reproduction, colic surgery, equine arthroscopic surgery, small animal orthopedic and soft tissue surgery, and general medicine for all species.
Dr. Dixon left Ruidoso to start a family with his beautiful wife Karla and his kids Ethan, Oakley, Raelynn, and Kinlee. Dr. Dixon started East Mountain Veterinary Service in January of 2017.
When he is not treating critters he enjoys spending time with Karla, the kids and their animals. Dr. Dixon enjoys roping, snowboarding, and playing hockey.
Alicia Wilson, DVM
Associate Veterinarian
Dr. Alicia Wilson was born and raised in Fountain, Colorado, a small city between Colorado Springs and Pueblo just outside of the Fort Carson Army base. Following high school graduation, she moved to Mount Vernon, Iowa to attend Cornell College. In just over 2 years' time she graduated from Cornell with a Bachelor of Arts in Biochemistry and Molecular Biology. She applied to Veterinary schools across the nation where she was accepted to Cornell University, UC Davis, and Midwestern University.
She began pursuing a career in the veterinary field, as most stories go, as a young child falling in love with the idea of helping animals. Dr. Wilson began shadowing at various clinics and even found a job in the Cheyenne Mountain Zoo where she was able to help educate others about animals, their needs, and the means of taking care of them. She is all about the exotics and is a big proponent of conservation medicine and loves working with them every opportunity that she gets. She also loves working with horses and large animals in general. She is a member of the WDA and AAEP.
Dr. Wilson loves to go on hikes and when she had a horse in her life, enjoyed riding immensely. She currently has 2 dogs at home who are a result of working at the clinic, but she absolutely loves them. Dr. Wilson also enjoys artwork, mostly doing graphite personally, but will dabble into chalks, charcoals, and paints. She also does sewing and cross-stitch.
Amy Kazmar
Senior Lead Technician
Josh Jordan
Lead Veterinary Technician
Caelina Garcia
Lead Veterinary Technician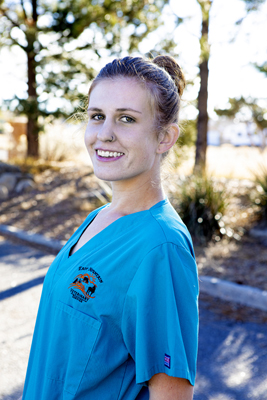 Molly Risacher
Lead Veterinary Technician
Jeanna DeVecchio
Lead Veterinary Technician
Amanda Anzures
Lead Veterinary Assistant
Briana Dooley
Lead Veterinary Assistant and Client Relations Liason
Julianna Escobar
Veterinary Technician
Tiffany Hanna
Veterinary Assistant
Tawny Gordon
Veterinary Assistant
Brisa Garcia
Veterinary Assistant
Cassandra King
Veterinary Assistant
Jonna Lawrence
Veterinary Assistant
Haley Marzini
Veterinary Assistant
Charity Hirdman
Veterinary Assistant
John Wilkins
Veterinary Assistant
Aiden Howells
Kennel Technician
Karla Dixon
Practice Manager
Bio coming soon!
Dina Abernathy
Front Office Lead
Pamela Woodruff
Client Relations Specialist
Sara Beasey
Client Relations Specialist
Laura Mancuso
Client Relations Specialist
Dee Cromwell
Client Relations Specialist
Kelly Crow
Client Relations Specialist
Dawn Zeleny
Client Relations Specialist
Stephanie Rivas
Client Relations Specialist & Veterinary Assistant
Monique Tenorio
Client Service Representative
Josey Obregon
Client Relations Assistant