Lane Dixon, DVM
Veterinarian
Dr. Dixon graduated from Carrizozo High School in 2002 where he grew up on a cattle ranch. After high school he attended NMSU where he received his Bachelors degree in Animal Science. In 2010 he graduated from Colorado State University with his DVM and received the outstanding student in Equine Reproduction.
He has spent the last seven years in Ruidoso New Mexico at a mixed animal practice where he has gained invaluable experience in equine and bovine reproduction, colic surgery, equine arthroscopic surgery, small animal orthopedic and soft tissue surgery, and general medicine for all species.
Dr. Dixon left Ruidoso to start a family with his beautiful wife Karla and his kids Ethan, Oakley, Raelynn, and Kinlee. Dr. Dixon started East Mountain Veterinary Service in January of 2017.
When he is not treating critters he enjoys spending time with Karla, the kids and their animals. Dr. Dixon enjoys roping, snowboarding, and playing hockey.
Alicia Wilson, DVM
Veterinarian
Dr. Alicia Wilson was born and raised in Fountain, Colorado, a small city between Colorado Springs and Pueblo just outside of the Fort Carson Army base. She went to school in the district 8 school district where she was able to take numerous college courses in high school and graduated with the equivalent of an associates degree. Following high school graduation she moved to Mount Vernon, Iowa to attend Cornell College. In just over 2 years time she graduated from Cornell with a Bachelor of arts in Biochemistry and Molecular Biology. She applied to Veterinary schools across the nation where she was accepted to Cornell University, UC Davis, and Midwestern University.
Dr. Wilson ended up choosing to stay closer to her family back in Colorado by electing to attend Midwestern University where she received 4 of the hardest years of my academic career. During school she honestly loved working with all species of animals and, with her background in zoological animals, she enjoyed the diversity and challenge they provided. She started her job search by looking for places that were willing to see at least dogs, cats and horses and anything additional was a plus. It wasn't until she really started looking and beginning the interview process that she truly realized how much she loved the small town community and a family owned practice rather than a corporate office. That was the moment she knew if she was offered the position she was going to move her life to Edgewood and so far she hasn't looked back.
She began pursuing a career in the veterinary field, as most stories go, as a young child falling in love with the idea of helping animals. As she got older there was some room for variation and deviation from veterinary medicine to the world of medicine in general. However, a few medical conferences later, she realized that human medicine was just not the right fit for her. Despite that, she kept coming back to the field of medicine and rediscovered her passion for working with animals within the scope of medicine. Dr. Wilson began shadowing at various clinics and even found a job in the Cheyenne Mountain Zoo where she was able to help educate others about animals, their needs and the means of taking care of them. She thought back to an experience of her own in which the veterinarian she had used for years had honestly misdiagnosed her dog and ended up dying. She vowed at that time that she wanted to be a part of this field to try and better the medicine and learn from mistakes to help others potentially not have the same outcome and experience that we did.
Dr. Wilson knew she was in the right profession the day she started working and the first client who gave her a hug and thanked her for what she had done despite us losing her pet (this was before she worked here at East Mountain).
She is all about the exotics and is a big proponent of conservation medicine and loves working with them every opportunity that she gets. She also loves working with horses and large animals in general. She is a member of the WDA and AAEP.
Dr. Wilson loves to go on hikes and, when she had a horse in her life, enjoyed riding immensely. She currently has 2 dogs at home who are a result of working at the clinic, but she absolutely loves them. She hasn't had as much time to explore the area as she would have liked but since she recently moved into a house, she has been trying to explore more. She does have a boyfriend but he does not live here. Dr. Wilson also enjoys artwork, mostly doing graphite personally, but will dabble into chalks, charcoals, and paints. She also does sewing and cross stitch, which is a dying art but she loves it. Art is one of my many forms of release.
Brittnee Bowdoin
Veterinary Technician
Brittnee has been a veterinary technician with East Mountain Veterinary Service since October 15th of 2018.
She grew up in Az, spending time in her youth in other states as well. She moved to NM when she met her husband and moved to Edgewood as she is a country girl and could no longer live the city life. She has absolutely loved being here the last 7 years has been wonderful. Brittnee graduated from Brown Mackie college with an associate's degree in veterinary technology around the same time she moved to Edgewood.
Brittnee was asked all he life if she would be a vet since she was so good with animals. She wasn't too interested at the time. She then decided to go to school after her husband's first deployment to have something to fall back on if something happened to him. She has not regretted a day of her decision to join this profession. She has enjoyed being a veterinary technician and wouldn't trade it for anything, other than maybe full time mom!
Brittnee knew she was in the right professional as soon as she started her major classes in college, she was eager to learn everything she could and she was better at it than she thought she would be. It wasn't easy but school helped her know I was heading in the right direction.
Brittnee is a wife and mother of 2, a daughter and son. She love homeschooling her daughter and learning and growing with her through her 4H projects. She was a military wife for 10 years until her husband retired and she is so proud of him. Her son brings her great joy. She loves teaching him about everything, especially their whole little farm of animals. She also loves music, horseback riding, reading by the fire, snow, and summer!
Kara Allman
Veterinary Assistant
Kara has been a veterinary technician with East Mountain Veterinary Service since April of 2020.
Kara is currently going to school at CNM to become a veterinary technician and is also going to UNM where she studies biology. Kara believes  that veterinary medicine offers her a  unique opportunity to combine her love for medicine, biology, and math with her passion for helping animals. Her favorite thing about veterinary medicine is that there is always something new to learn.
She has always had a deep love and respect for all creatures, and feels fortunate to spend her days surrounded by people who feel the same way.
When not at work, Kara enjoys cooking, gardening, beekeeping, and spending time with her husband and three daughters. Her home is ruled by two dogs, Loki and Hopper, 5 cats, and lots of chickens and ducks.
Kalie Clark
Veterinary Technician
Kalie has been a veterinary technician with us since May 2019.
She grew up in a small community in southern NM graduated high school in 1999, moved to Albuquerque in 2002 and in 2004 graduated from Pima vet assistant program. She then moved to Sandia Park on 2 acres in the spring of 2007.
Growing up on a small farm in Truth or Consequence NM and was active in 4H and FFA through out her child hood. Being an advocate for animals that need love and medical care, and knowing that she helps give them a chance.
Kalie knew that she was in the right industry when she revived a dog who was unresponsive, become responsive with life saving measures and lived another 5 wonderful years.
Kalie is married to her wonderful husband Bob of 17 years , when they're not doing home projects or cutting wood to heat our home for winter they enjoy snowboarding together, taking their 3 pities Layla, Dozer and pillar on camping and hiking adventures in warmer weather and she enjoys trail rides with her mustang Noche.
Jeanna DeVecchio
Veterinary Technician
Jeanna has worked with us as a Veterinary Technician since 2019. She is from Oregon, but moved here at a younger age and has spent most of her life here in Edgewood. She has an associate's degree in Political Science but veterinary medicine has always been her primary passion. Her family has always owned animals of all sizes. Her interest and love for them began at a young age and really peaked when her mom would take her to work after school at a vet clinic since they did not have a babysitter. Her favorite thing about working with animals is helping them recover and stay healthy along with the unconditional love they offer us. She knew she was in the right profession when she was never tired of going to work. It has never truly worked for her since she loves and enjoys going every day. She loves going off-roading in her free time, spending time with friends and animals at home, traveling, and being able to see new things while meeting new people.
Josh Jordan
Veterinary Technician
Josh as one of our veterinary technicians here at East Mountain Veterinary Services, and one of many wonderful people that will be caring for your pet!
In his free time, he likes to spent time with his wife Feather and son Colt. His family has three dogs, Lydia, Trixie and Jibii, a bearded dragon named Reptar, and a tortoise named Tuga.
Amy Kazmar
Veterinary Technician
Amy is a RVT and has been with us since March 2020. She was born and raised in New Mexico, mainly in the East mountain area. She attended CNM community college and received an Associate degree in Veterinary Science. She also received a Bachelors degree in Psychology at UNM. Amy has always wanted to be a veterinarian from a young age. When her schooling went a bit off track, she decided to be a veterinary technician. Her favorite thing about working with animals is that every animal is different, from their personality, species, medical concern, etc. Amy knew right away when she started in this profession that she knew she was in the right place. Being able to see the impact she makes on all of the animals' and owners' lives is just amazing.
Amy has been married to her husband since August 2011. They have a seven year old daughter and 5 year old son as well as six cats and two dogs. She enjoys doing activities outdoors and spending time with her family.
Carissa Gibbard
Veterinary Assistant
Carissa is a Veterinarian Assistant and started working at East Mountain Veterinary Services in May of 2018. She has lived in New Mexico her whole life. Her parents moved to Albuquerque when she was very small and lived there for a couple of years. They didn't like the city very much and they were animal lovers so they moved to the mountains of the Chililli Land Grant and lived there for 13 years. They moved to Edgewood in 2015, and she graduated High School in 2017 and have lived in Edgewood for 5 years now.
Ever since she knew what a Veterinarian was, Carissa always wanted to be in this field. She loved animals so much that all she wanted to do was help them. Carissa knew she was in the right profession because everyday we make an impact on someone's life, not only animals but people as well. Her favorite thing about working with animals is seeing a pet's health turn around after treatment, and even the reactions of their owners when their pets health turns around, and we helped with that. It's very heart warming.
Carissa grew up in a family of 6. They have always loved all their animals and there was not a time in her childhood they did not have some sort of animal from horses, dogs, cats, snakes, turtles, hamsters, etc. She started rodeoing when she was little, so of course her favorite was always her horses. She currently lives in Edgewood with her Fiancé, our 5 dogs, 2 cats, and her horse, and we are expecting our first baby girl in December 2020 (not that you couldn't already tell).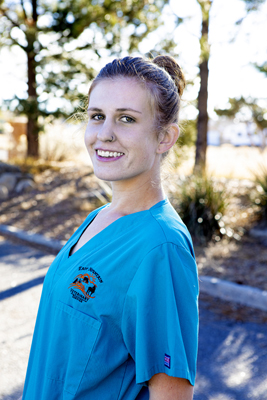 Molly Risacher
Veterinary Assistant
Molly as one of our veterinary assistants here at East Mountain Veterinary Services, and one of many wonderful people that will be caring for your pet!
Molly was born and raised in Edgewood New Mexico. After high school she went to Pima and became a certified Veterinarian assistant.
She has always had a passion for animals since day one. She finds them to be the most humbling creatures on this planet. She thinks the best thing you can do on this earth is to help the helpless. Her favorite thing about working with animals is that no matter what they are going through, they always greet you with a happy face and a kind heart.
Molly knew that she was heading in the right direction with her career because, and in her words "Some things you just know and just feel right." What really confirmed it was the smiles on clients faces and the happy tails you see when you bring your patients back to the owner.
Molly comes from a large family. She is one of 5 siblings. Growing up in a large family makes it easy for your heart to be full of love and care. When she is not at work, she am usually hiking with her dogs in the mountains . Growing up in the east mountains was the best part of her life, the fresh air and the freedom to be what you want to be.
Caelina Garcia
Veterinary Assistant
Caelina has been with us since 2016 and currently enjoys her position as a Veterinary Assistant. She is a New Mexico native, she moved with her parents and brothers 25 years ago. On top of taking care of animals, and attending university full time, she also has a 5-year-old son. She is a high school graduate and currently earning her undergraduate degree in Biology at the University of New Mexico in Albuquerque NM. Her career path in veterinary medicine started 4 years ago when she was 19 years old. Her favorite thing in this career path is her ability to help provide top-notch care for animals, and being able to save a life whenever possible. It has been a lifelong dream of hers to become a Veterinarian, becoming a part of East Mountain Veterinary Service, who has not only shown her support and opportunities but has also encouraged her to pursue her dreams further to reality. Her ultimate goal is to become, not just a veterinarian, but a great veterinarian. She currently lives in Edgewood, NM along with her family and five-year-old son, Matthias. She enjoys riding my horses, camping, fishing, and spending time with her family in her downtime. She is a full-time college student at UNM, a full-time Vet technician, single mom, and animal lover!
Cori Coulware
Veterinary Assistant
Cori is a veterinary assistant here at East Mountain Veterinary Service. She received her assistant certificate through PIMA Medical Institute. She has always loved animals and loves earning the trust of fearful animals. She knew that she had made the right career choice when she watched a comatose puppy fight her way back and live!
Gloria Sarver
Veterinary Assistant
Gloria has been a Veterinary Assistant with East Mountain Vets since September 2020. She graduated from the Veterinary Assistant program at Pima Medical Institute in August of 2020. She received her GED in June of 2019. She's wanted to work in the Veterinary field since the age of 15; she grew up helping her family with goats, chickens, rabbits, turkeys, pigs, cats, and dogs and always wanted to figure out what was going on with them and to help them when they were sick. She has a knack for learning how to help them and watching them get better. She realized she would never be bored in this profession as there is always something new to learn, but also driven by the great reward of helping the animals and her teammates throughout the day. She comes from a family that has always encouraged and helped her to achieve her goals, they are her greatest support system. When she is not working she also enjoys doing leather-craft and singing.
Eliot Arrowsmith
Veterinary Assistant
Eliot is a Veterinary Assistant who started in November 2020. He grew up in Ruidoso and went to school up until high school when he moved to Fort Davis, Texas to a boarding school and finished school a year early. It wasn't until his wife finished her school at Pima that he started thinking about going back to school again to become a veterinary technician. He started with Pima in March of 2020 and it was the first time he felt like he was going to the right school for the right profession and really stuck with it and put in all his effort to pass every class.
His passion for working in the veterinary industry started when he was a kid when his mom would take in animals from the side of the road and they would make sure the animal was ok or take it to their vet to see what they needed to do so the animal could be healthy again. They would always keep the animals they saved so Eliot grew up with a lot of animals from dogs and cats to horses and goats and African greys and a hamster. He always had great experiences with animals and his mom would tell him there is no animal that he couldn't pet or befriend.
Eliot's favorite thing about working with animals is that I get to see them at their worst and watch them get better over time to go back home. He knew he was in the right profession when he really enjoyed seeing people's pets get better and have them say thank you and see in their faces that they are very happy to have their companion back with them and their families.
Eliot's family includes his wife, Kaila, who has been his main support for going to school and finishing school. She is a LPN (Licensed practical nurse) and got her license at Pima also which is how he learned about Pima's veterinary assistant program. Together they have 3 kids: Brooklyn, Madisyn, and Zayden. They also have 3 cats and 2 dogs (one of which only has 3 paws!). Outside of work, Eliot enjoys spending time with his family and wants to take his family fishing and camping.
Angel Rey
Veterinary Assistant
Coming soon.
Karla Dixon
Practice Manager
Karla Grew up here in Edgewood and graduated from Moriarty High School. She completed degrees at both NMSU and UTEP before ultimately coming home to Edgewood where she met Dr. Dixon and they started a beautiful family together. Karla is a very busy mom, wife, and business women. She specializes in helping people in any way she can. She developed Project Pawsitive which is designed to help those in need for emergency and unexpected expenses.
Dina Abernathy
Front Office Manager
Dina has been ensuring front office processes have been running smoothly since November 2019 as our front office lead. She is a native New Mexican. Born and raised in the Valley. She moved to Denver Colorado right out of high school where she was fortunate enough to start working for fortune five-hundred companies. After living out there for almost 30 years and going to college while raising her children she moved back to New Mexico to help her mom after my stepfather fell ill. Since living in the city was not an option, we finally picked the East Mountains because of the Ponderosas. She found a niche in veterinary medicine where she has been happily working for close to 12 years. Throughout her life, she has always had some sort of animal, dog, cat, reptiles, birds from farm to Moluccan cockatoos. It became clear to her she was in the right place by the way animals reacted around her. And after a while, their owners started to grow on her as well. Her personal interests include raising poultry and learning about herbal medicine. Her passion would be spending time with her grandchildren. Her inspiration would be her boss Karla Dixon, she's one amazing lady!
Jodi Stotz
Client Relations Specialist, Front Office
Jodi is a Client Relations Specialist here at East Mountain. She is originally from WI and moved to New Mexico about 3 yrs ago. Her background is in various forms of business from health care to e-commerce and she has 2 bachelor degrees with one in Business Management and one in Business E-commerce.
Jodi grew up on the family farm back in WI and has always been around animals. Working with animals has always been a dream for her. As a child, she wanted to be a zoologist. She has a pack of dogs of her own, 1 cat, goats, chickens, and ducks. Being able to help others with their babies makes her smile. She knew she was in the right profession the day she started. She loves helping clients with their questions and their fur babies.
Outside of work, Jodi enjoys spending time with her son and her fiancé. She loves spending time outdoors in many different activities. She loves spending time with my animals at home, watching movies, and curling up by the fire on the cold days.
Kandi Huxtable
Client Relations Specialist, Front Office, and Veterinary Assistant
Kandi is part of our customer service team here at East Mountain Veterinary Services since March of 2019.
Kandi has earned 2 associate degrees (1 in liberal arts; 1 in science), 2 bachelor degrees (1 in fine arts; 1 in science), 3 masters degrees (1 in fine arts; 1 in science; 1 in business).
She loves working with animals and loves the unconditional love that they give. She knew that she chose the right career when her experience and skills in human medicine crossed over into veterinary medicine.
Outside of work, Kandi enjoys spending time with her husband on horseback and watching the beautiful sunsets! Kandi has a dream to run her own cattle company someday.
Laura Mancuso
Client Relations Specialist, Front Office
Laura is a Client Relations Specialist here at the practice. Her personal origin is mainly southern states, however military life has taken her throughout the United States and overseas. She moved to Roswell, New Mexico in 2010 from Missouri and moved to Edgewood, New Mexico in 2019. She is a military retired veteran of 21 years, served active duty Army, Army Reserves, and in 2004 transferred to Air Force National Guard. Her deployments were different missions like Joint Task Force in El Salvador in 1998, Hurricane Katrina in 2005 and OEF (Operations Enduring Freedom) in 2008. Laura retired the Air Force National Guard of New Mexico in 2013.
She began working in the veterinary industry in June of 2020. She and her husband have 3 horses and adopted 4 dogs and 1 cat. She always thought about working with a veterinarian office and here she is today. Laura knew she was in the profession because her military skills with medical units presented different ways to build her relationships with people and their cultures around the world.
Laura is married to her wonderful husband, Drake, who also served with Marine Corps as a helicopter pilot. Their Daughter, her husband, and her 2 grandchildren reside in England. She became a college student for the third time and graduated with honors in 2019 Phlebotomy and Medical Coding. Laura's horses are her passion besides her family and she shows her quarter horse, Radar in Western Pleasure with SWQHA.
Brooke Erdman
Client Relations Specialist, Front Office
Brooke started working in the front office since March of 2020. After graduating from Eldorado High School in Albuquerque, she went to Texas Tech University. When she graduated December of 2019, she was missing the mountains a lot but never wanted to live in the city. She came across Edgewood where she felt more at home. Brooke's Bachelor's Degree is in Animal Science specializing in Equine, however she still continues to learn more each day.
Her inspiration to care for other's pets came from her childhood rabbit. At a young age, Socks helped her stay calm and focus when she was having trouble with her dyslexia. Through him, she believes our pets help us in all parts of our life especially when most needed. It is because of that she want to help them when they are needing us the most.
Brooke knew she was in the right position when she saw all kinds of different animals come in whether it's a goat, bird, or reptile. There is always something exciting going on in the clinic each day.
Outside of work, she is with her family or playing soccer. You can still see her try to juggle at least 70 in a row whether that's with her head, knee, or foot. She is trying to see if her dogs will go for it but they are more interested in swimming or hiking with her. Brooke is also a huge Disney and Marvel fan.
Amanda Anzures
Client Relations Specialist, Front Office and Veterinary Assistant
Amanda is a Client Relations Specialist and started on March 23, 2020. She was born and raised in Albuquerque New Mexico and graduated from Atrisco Heritage Academy with college education in phlebotomy. She came to Edgewood because of amazing people and environment.
Since she first started working, she have always had a passion for working with all animals and seemed to keep wandering back to veterinary medicine.
Outside of work, Amanda loves to play sports and continue her education. She aspires to move up within East Mountain Veterinary Services.
Nickie Keswater
Client Relations Specialist, Front Office
Nickie was born in Mesa Arizona in 1998 and moved to Albuquerque, New Mexico in 2003. She attended Bataan military academy for high school and graduated with honors with plans of joining the airforce. She decided the military wasn't for her and worked to finish real estate school and moved to Tijeras, New Mexico with her wonderful husband and high school sweetheart; four years ago, and that is where she gave birth to their beautiful little girl. She wanted to be a veterinarian since she was a child. She began working in Edgewood as a ranch hand with few different places and they happened to also use Dr. Dixon. After establishing him as her vet for two years, she was finally able to get a job at the clinic as a receptionist; where she enjoyed making clients happy and helping all animals! She knew she was in the right profession when she realized she actually enjoyed coming to work every day and it didn't feel like a job. It's very rewarding getting to personally know not only the patient but their parents as well. When she isn't busy at East Coast Vets she enjoys spending time with her family at home and going waterfowl hunting with her husband and their black lab Dixie. She has grown up in the outdoors since she was nine, where she helped guide hunts with her father and uncle in New Mexico. She also loves camping, big game hunting, and fishing.
Sonya Franklin
Client Relations Specialist, Front Office
Bio coming soon.